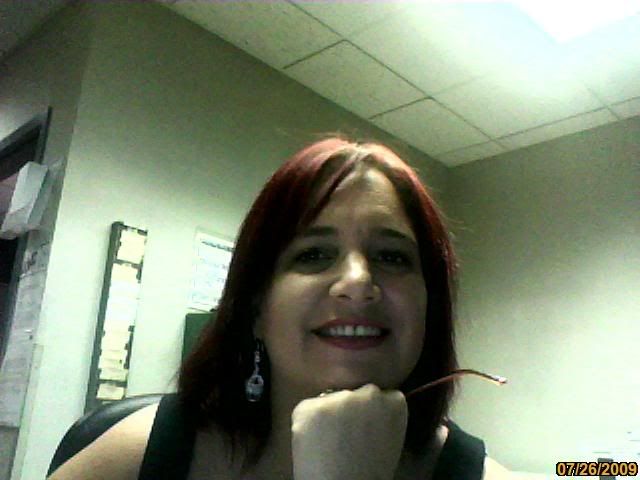 I first met Rachelle on a NWN2 server called The Frontier Reborn, though I didn't know it at the time.  I never talked to players much outside the game back then.  We ran into each other again on another NWN2 server called Dalelands Beyond.  We roleplayed a bit there but our characters rarely had reason to cross paths.  It wasn't until she came to be a developer, builder, and player on our own NWN2 server that I got to know this wonderful woman, gamer, and friend.  I know, I'm late with this, totally my fault, I'm a slacker.  So, without further ado, I give you April's gamer lady of the month, Rachelle.
Q.  What is your Gamertag?
The two I'm known most by are SilverLining and FoundersFilly.
Q.  Gamer guild/clan affiliation?
I recently started a mage guild on Gray Isles (The Tower of Brelyan), named after a Dragonlance style conclave I ran on AOL's Rhydin many years ago.
Q.  Console or PC? 
Any reason for preference? PC.  If it's not PNP (Pen and Paper) then it's NWN2 for me, so PC's it for me!
Q.  When did you start gaming?
Well, if you're asking about video games, back when PacMan and DigDug first came out, or there around.  I had the very first Atari Console!  Wow.  I look back on that now and all I can do is wish that I'd have had the good sense to keep it!  Ah well.  We all know what they say about hindsight!  If we're talking RPGs and the like, I began playing D&D when I was 14, though I never really got serious or committed to playing until my early 20's.  By the time I was in my early 30's, I was working for the industry, and have remained an avid gamer ever since..
Q.  What got you started in the world of gaming?
I was 14 and the year was 1983.  The cartoon Dungeons and Dragons had -just- come out (and the news had just begun to report kids acting out D&D in real life and getting killed, hurt or otherwise managing to get themselves in trouble.  I guess the first thing that popped into my mind was "What's the big deal, isn't it just a dice game?", followed by "I want to try it just b/c everyone's talking about it."  You know, a typical kid's line of thought.  So, I tried it and from there I was hooked!  Have been playing ever since!  (It's now 28 years later!)
Q.  Favorite game?
Hmm.. I guess that depends on the type.
Favorite Video Game: NWN2
 Favorite Puzzle Game: Stuck between Bejeweled and Tetris
 Favorite Phone App Game: Any by Storm8 (Storm8 id: NWN2 Gal)
Favorite Card Game: Anoch's Mystick (Which I play tested back in 2000 for Anoch)
Favorite PNP Game: D&D E3.5 or Pathfinder
Children's game (I play with my son): Wizard 101
Q.  Currently playing?
Pathfinder and NWN2.  Though to be honest, I prefer NWN2 because of the depth of role play involved.  I really do prefer Role play to Roll play.
Q.  Most anticipated future release?
Dungeons and Dragons 5.0, which has only recently been announced as being in the works and is claimed to have 'the best from all the D&D editions put into one.'  I'm really curious to see where they go with this.  Sadly, with Monte Cook having been quoted as saying 5E can be compared to resurrecting and beating a dead horse.. I have my concerns.  Not to mention that 4.0 was such a huge failure in my eyes, I'm almost tempted to just stay with Pathfinder… 4.0 really was tailored to those in RPGA, who can be called 'transient role players'.  I really hope that's not the case with 5.0.
Q.  Build your own or off-the-shelf PC?  Any reason for preference?
Off the shelf!  Why?  All I really use my PC for is email and NWN2 (Playing and building).  I don't really need anything fancier than this!
Q.  Favorite game type?
Now and always, RPGs. (Of which I've played too many to list!)
Q.  Do you think there are any issues related to being a female gamer, bias, unwanted attention, etc?
I've had a few instances of honestly and truly 'unwanted attention'.  I've also had a couple of instances where what I can only refer to as 'strange behavior and/or comments' by others have put me off to rp with them, due to my being female.  But for the most part everyone's been great.  I've made a lot of really amazing friends out here.. It always makes me smile when someone tells me they think it's kinda cool that I'm a gamer/nerd chick!  I still remember being teased for it at times when I was younger!
Q.  You mention a history in the gaming industry, what can you tell our readers about that?
Well.. It started when we moved to Las Vegas (Green Valley) back in 1999.  I had recently gone to my first convention (Origins in Ohio) and really fell in love with the whole convention thing.. I decided to start poking around to find out what gaming cons were held in Vegas.  I figured Vegas had to have SOMETHING.. It did, but it turned out it was the Gama Convention.  Gama is not a Convention the general population has access to.  It's the "Industry's" convention.  Everyone from the publishers, distributors, Authors, Illustrators, all the way down the line to the gaming stores.. A little frustrated that we had this HUGE convention I couldn't buy my way into, I contacted the people that put GamaCon on, and did a little research.  For the next six years I went from a Volunteer title to a Sr. Volunteer.
My Con duties included helping check people in and helping in whatever capacity I was needed, helping to set up the presentations, and so on..
While working for them I was given many opportunities I would never have otherwise had.. I play tested Mystik for Anoch, edited for Children of the Sun and met some of the most amazing people in the industry..
I really think leaving leaving GAMA behind when we left the Vegas area was the hardest part of the move for me.. But I've taken with me a lot of amazing memories that are really close to my heart.
Well, there you have it ladies and gents, your lady for April.  If you know a gamer lady you'd like to have featured here email me at magus_taliesin@hotmail.com, with a brief description of why they should be featured (it's not that hard to get in.)  Look for more to come in the future folks.